Project Update - 09..10/2021
September and October were some very busy months for me. I have  jobs, which is always coming with a bit of overhead. We are also doing a lot of background work, that takes time. If you missed the Project Update in September, here it comes. Since the last one was in August, it might be a bit longer than usual.
New Format
while-true-do.io is slowly maturing and this should be reflected in the update articles, too. Therefore, this article has a new structure. This will allow scrolling to the section, you are interested in, and tell the while-true-do.io story a bit better.
The new structure will be something like this:
We also removed the "Blog" section, since it was just a repetition of articles, that are on the front page, anyway.
Community
There are two things, I want to mention here.
In the last couple of months, people reached out to me via Twitter and Mail. Some suggested articles for the future, others found some issues, and most of them just wanted to say "Thank you".
I just want to answer: "Thank you for reading the stuff we are producing. Thank you for checking the code. And thank you for spending your time on the platform."
The second thing, I want to address is our request count. We don't have a lot of statistics, since we don't want to introduce tracking cookies and stuff like this. The only statistic, I can provide for now is the request count on our proxy.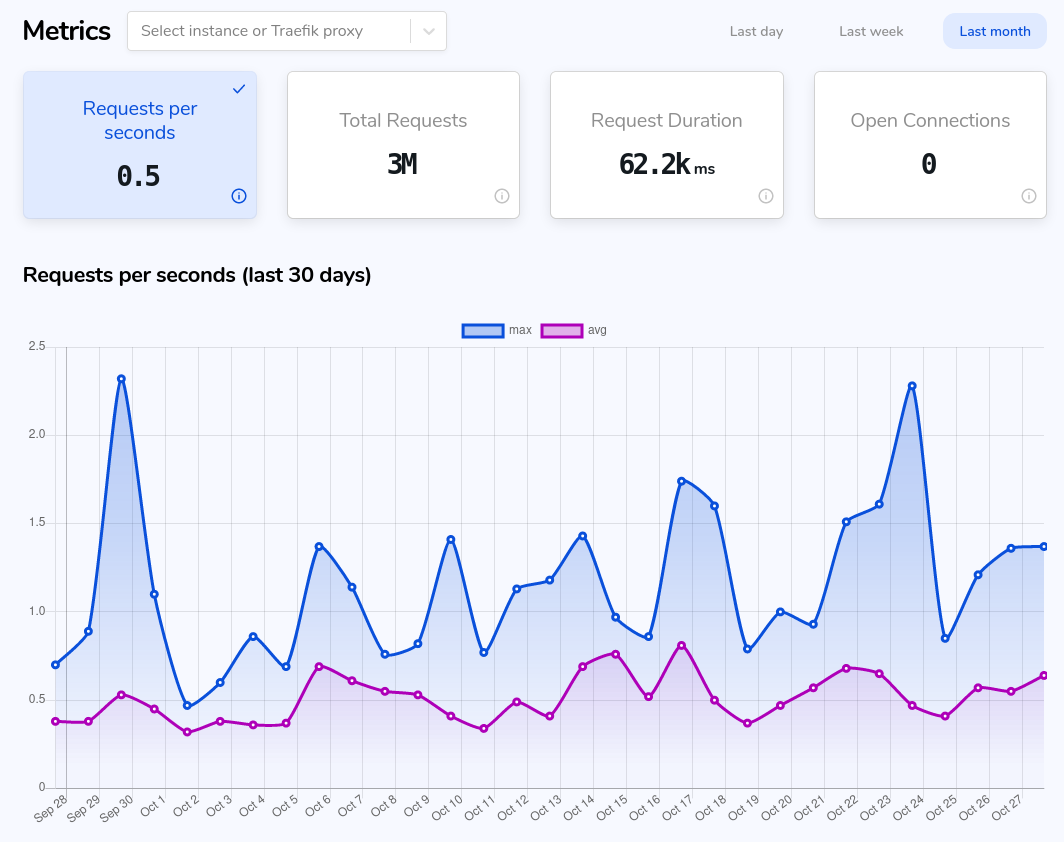 It's terrific. We are now seeing 3 million requests per month. This includes monitoring, real users and all kind of traffic from bots. But, man, I am thrilled by this number.
Services
For the services, it may seem quiet. I can ensure, we are working on a bunch of things and there is stuff that will change during this year. This time, I want to provide some status of this "new structure".
The major thing is: We will split the whole setup into multiple repositories and pieces. This will make it easier to reproduce the setup and also address some issues, we ran into.
Infrastructure (IaaS)
This part will take care of the virtual machines, networks and basic network infrastructure itself. You can expect everything from "getting a virtual machine" to "configuring basic services" here. The IaaS side will be the base of everything on top.
In the next month, we will start to provide Kickstart files and Ansible Playbooks to configure your own "node".
Container (CaaS)
This part is exclusively about the Container Platform. Based on the above IaaS, we will configure Podman, Kubernetes and more so one can run containers on top. Some basic monitoring will be included, too. But the idea is, to provide a standard container environment for us.
In the next months, you will find some Ansible Playbooks here and Kubernetes Deployments, that will define the CaaS.
Platform (PaaS)
Now it's getting complicated... at least a bit. The Platform is basically everything you need to really run containers and maintain them. You may think of code repositories, container registries or CI/CD options. There is more to it, but in the end the platform should satisfy developer needs.
During the next 3 months, you will find some Kubernetes Deployments, Ansible Playbooks and articles that describe this a bit better.
Software (SaaS)
This part is quite easy. All the software we want to run, is running here. This will be the blog, chat, file exchange and much more. It is not exactly "Software as a Service", since we don't offer the service to the wider public. Nevertheless, we want to ensure that we can set up 1,2,3,4,5 or even 20 Blogs in the very same way.
We also want to allow social logins (via OpenID) to some services, so you can interact with us in an easy way.
Starting in 2022, you will see a lot of articles that will use the above PaaS and CaaS to deploy Software on top (in Kubernetes or Podman most likely).
Code
This section is quite new, but not unknown. Since we want to produce code for the community, we also want to address this in the new article format. For now, I want to introduce some sections to you.
Applications
In 2022, we want to provide our own applications to the audience. You can think of simple tools, that help us to build while-true-do.io.
Ansible
Since we are doing a lot of Ansible, we also want to share collections and roles or playbooks with you. This section will cover new releases of the collections and provide a status update.
During the next couple of months, we will start migrating and bundling code in proper collections as listed below:
while_true_do.general - a collection for general purpose automation or, if we don't have a better place to store the code
while_true_do.desktop - a collection for desktop specific automation like Gnome Settings
while_true_do.cloud - a collection for cloud specific roles and automation like AWS or updating DNS records
These roles will be synced to GitHub, too. This means you can interact easier with us. Let's see how this works.
Container
We may need software that is not containerized yet, or where we want to build our own containers. This will be done in public, too. If we need a time-server in a container, you can expect to find it in our repositories, on Docker Hub and Quay.io.
SubProjects
Our subprojects have seen some cool updates, too.
ddosug.org
Where should I start? We have made a couple of updates to the website at ddosug.org. There is also a new sub-site, that is showcasing an event that will occur on November 20th.
This event is a (German speaking) conference about Open Source Software in education. Some cool speaker from Moodle, LibreOffice and other well known Open Source communities are joining us and will talk about the demand, benefits and value of Open Source in education and educational environments like universities or schools.
We also attended another event (DecompileD) as described in this article.
style-cheat.io
We are currently working on a complete rewrite of Style Cheat, which will introduce some cool new features. This is one of the hard requirements to improve the website for ddosug.org and also get our own web applications going. Style Cheat will be the styling framework for our applications and services.
Conclusion
I really hope, that this "wall of text" has shed some light on the situation here and explained what has happened and what is coming up next. Planning everything and preparing tools and plans is not an easy task. Now, the backlog is filled with tons of work, and we can make progress again.
Are there information you were missing? Is there something you are interested in? Please let us know via hello@while-true-do.io.