Nextcloud Hub - Release 21
Nextcloud is an Open Source collaboration software with tons of features out of the box and additional apps available. On 22.02.2021 the new major version Nextcloud Hub 21 was released. This article covers the new features and changes you can already try out.
History
Just one year ago, Nextcloud 18 (Hub) was released and since then we have seen many improvements in nearly all areas of Nextcloud.
With Nextcloud 18, we have seen the "Hub naming" the first time, which was indicating, that Nextcloud wanted to be more, than a file sync / cloud storage platform. It was also the first release with Flow and Collabora Online as an integrated Office solution.
Nextcloud 19 introduced features like Forms and Password less authentication.
In Nextcloud 20 the dashboard was re-invented and got a ton of love.
Nextcloud 21
Today, Nextcloud 21 is available. You can see minor improvements all over the place like in Deck or Mail. The clear major improvements were made in Office, Talk and server performance.
The Nextcloud team has published an announcement video, too.
Whiteboard
Nextcloud 21 is getting a new, official app - the whiteboard. It allows collaborating on a whiteboard and save whiteboards as ".whiteboard" files. The whiteboard application is based on Spacedeck. You can:
draw lines and shapes
write text
upload images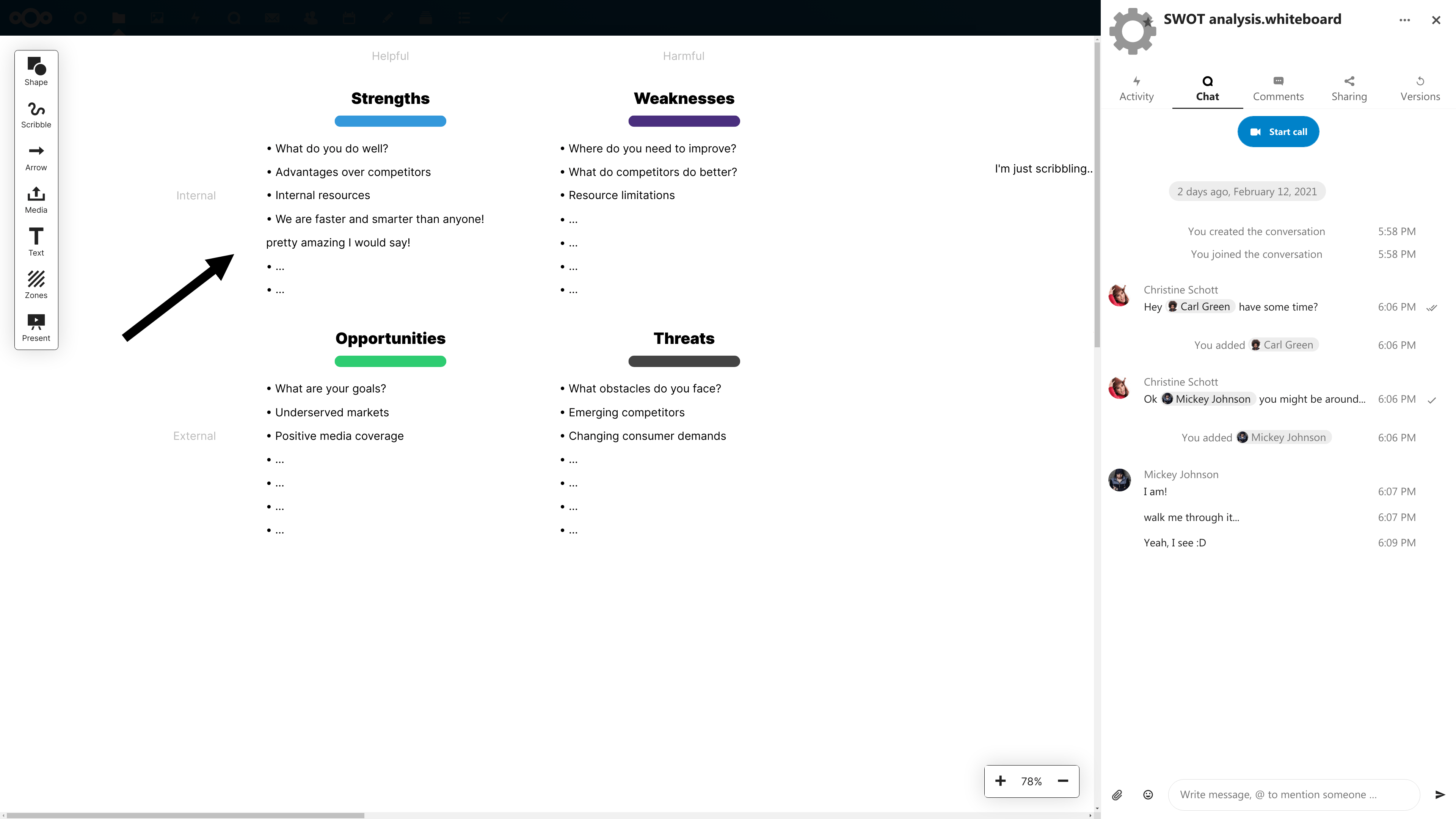 Author colors
When it comes to collaboration, it is nice to see who is working where. Nextcloud 21 introduces author colors for documents, so you can clearly identify who has edited which part. It works in Text, Office, Spreadsheet and Presentation documents.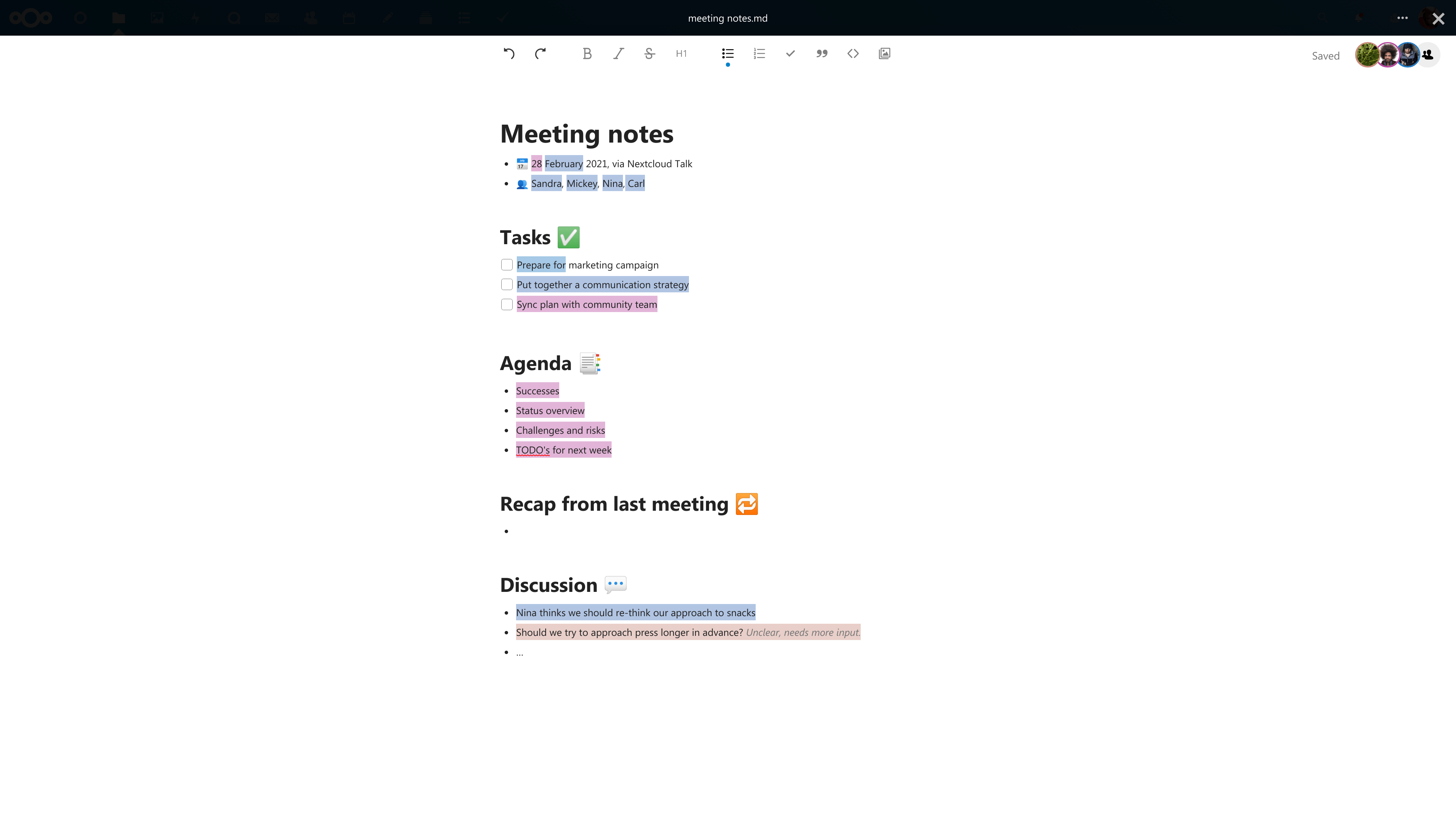 Document Templates
Finally, we are getting templates. When creating a new file, you are now able to choose from a template. The Nextcloud developers also provided some example templates. The templates also work for Text, Office, Spreadsheet, Whiteboard and Presentation documents.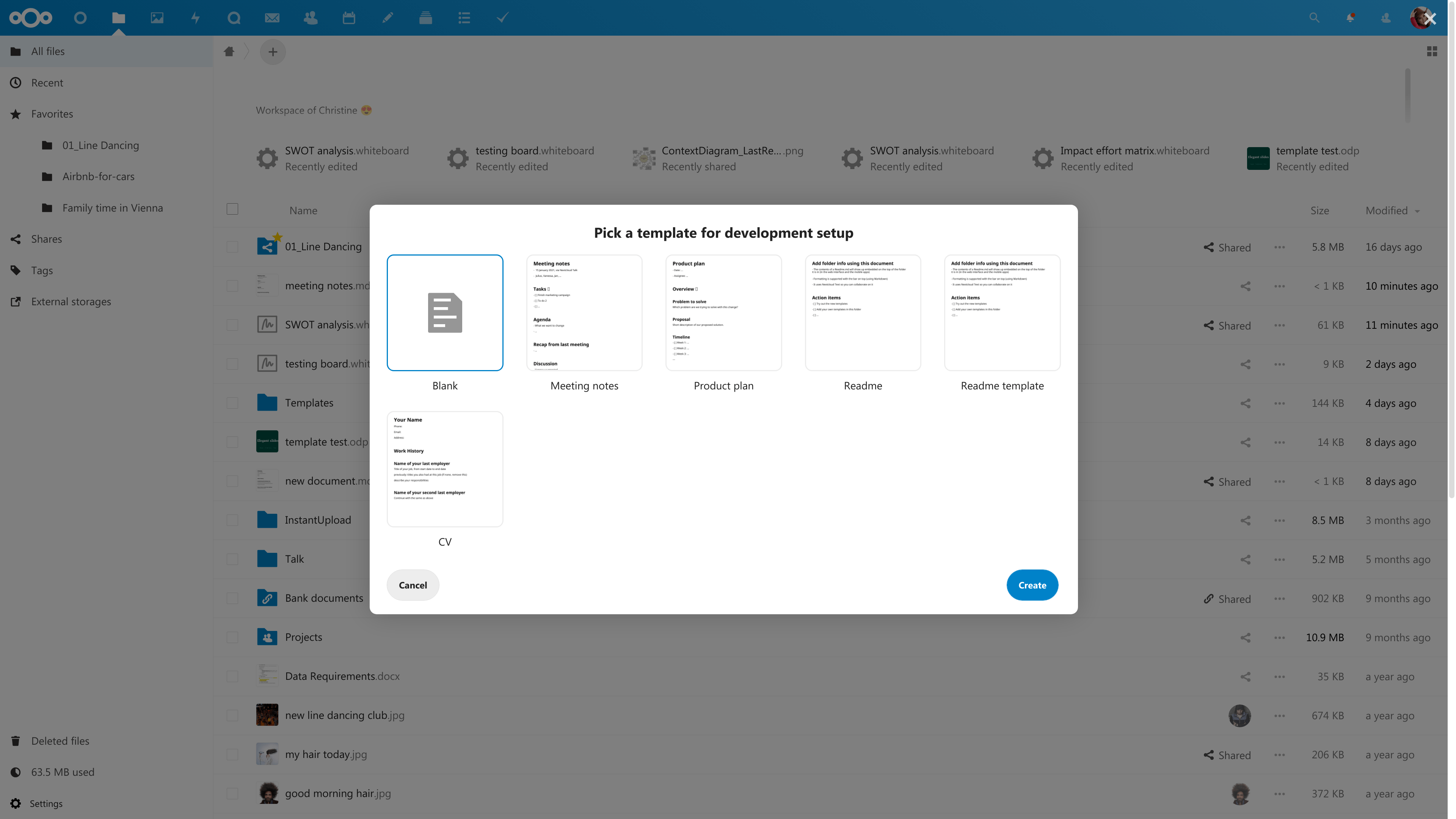 Talk
The Talk app has seen some massive improvements. The integrations for IRC, Telegram, Slack and more have seen improvements, the preview images are now bigger, animated GIF support and more like:
Message Status indicators now showing if a message was read
Conversations can be visible for all users, now
A Raise Hand feature was added to Calls
Push to Talk / Push to Mute was added
Group Conversations can have a description now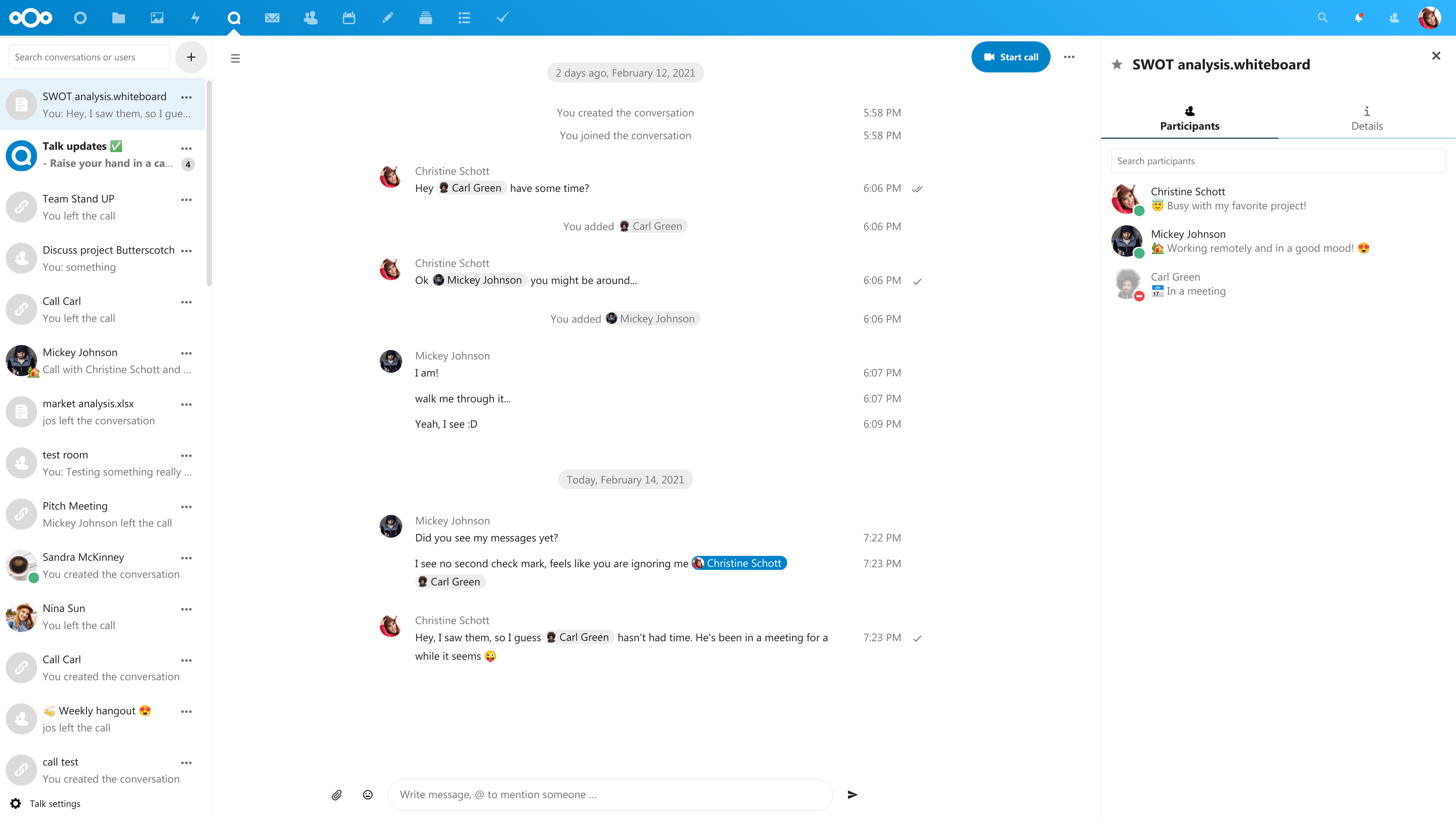 Performance
Nextcloud offers a wide variety of apps, which will enhance the functionality of Nextcloud in many ways. Added functionality also adds some load to the server and user and therefore Nextcloud installations can be slow and sluggish. Another factor is scaling - the more users and files are in the Nextcloud, the more "oomph" is needed to handle the parallel requests.
The Nextcloud team has addressed these topics with lots of improvements:
a new high performance backend for large scale installations is available
PHP8 is supported
centralized translation
theming is cached in the browser and requests are reduced
background tabs / text apps reduce the refresh on idle
user and group handling has seen performance improvements
database requests also reduced
Try it now
You can already install and try the new version on your own. Spinning up a container with Docker or Podman is really easy.
# Run with Podman
$ podman run -d -p 8080:80 nextcloud:21

# Run with Docker
$ docker run -d -p 8080:80 nextcloud:21
For a complete guide on "How to set up Nextcloud on fedora with Podman", you can check out my article at fedoramagazine.org, too. Please don't upgrade right now, since some apps are not yet available for the new release. As a "good practice", one should wait at least for the first point-release 21.0.1.
Links
Nextcloud has provided lots of articles and videos with more information about the new release.
Conclusion
With Nextcloud 21, you will get more collaboration tools, better performance and new features. My very first tests confirm, that there is lots of potential, but some apps don't work with either Nextcloud 21or PHP8 and one should wait a bit, so 3rd party developers can improve the overall experience.