GNOME
Release - GNOME 40
The GNOME Foundation just released the newest iteration of the GNOME Desktop Environment. After GNOME 3.38, we will get GNOME 40. This is one of the biggest changes since GNOME 3.0 and this article showcases the new features and improvements.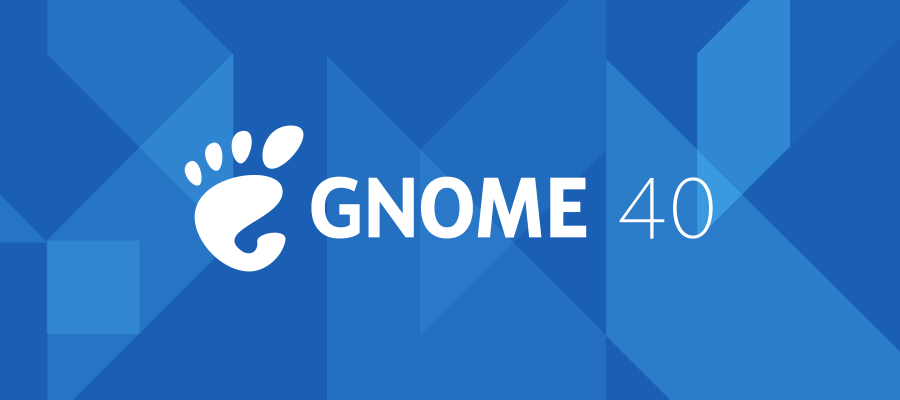 The GNOME Foundation just released the newest iteration of the GNOME Desktop Environment. This article showcases the new features and improvements in GNOME 40.
GNOME
First things first. GNOME is more than a "Desktop". It is a collection of different applications, libraries and frameworks, which are combined into a Desktop Environment. To learn more about GNOME and the GNOME Foundation, have a look at the below link.
Versioning
The GNOME Foundation has decided to change the version numbering scheme. The next release after GNOME 3.38, will be GNOME 40. Basically the leading "3"was cut off and from this release, the version numbers are handled differently. In the past, a new major release was indicated by an even release number 3.36, 3.38, etc. In the future, releases will be 40, 41, 42 and so forth, with minor releases being 40.1, 40.2, etc. This is a bit more logical to me.
But why? There are a couple of arguments. GNOME 40 is the 40th stable release since the project was founded. It also marks the single biggest change since 3.0 was released. Since the default is now GTK4, GNOME 4.0 seemed a bit odd to some project members. With the new scheme, it is easier to differentiate major and minor versions from each other.
GNOME Shell
The GNOME Shell is the desktop you will get. It provides a simple and easy to use entry point to your computer. The Shell has changed a lot since 3.38.
The overview has gotten a new layout and lots of design changes. Some of these are intended to make the overview more intuitive and discoverable. Instead of having vertical workspaces, you will now get a horizontal alignment of workspaces.  Also, the Dash moved to the bottom of the screen.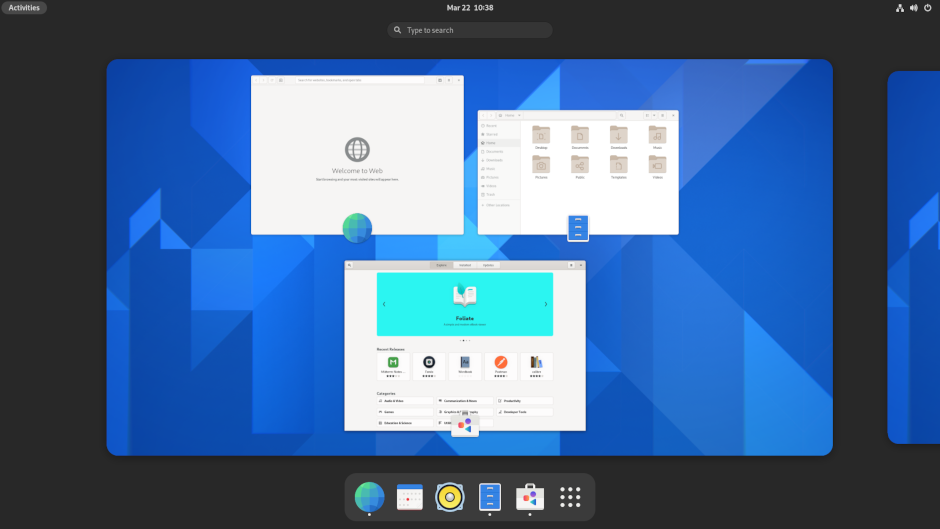 The App Overview changed to a horizontal layout too. It also provides an additional Workspace overview (for me this seems to be a bit redundant). Furthermore, applications that are added to the dash are no longer listed in the App Overview.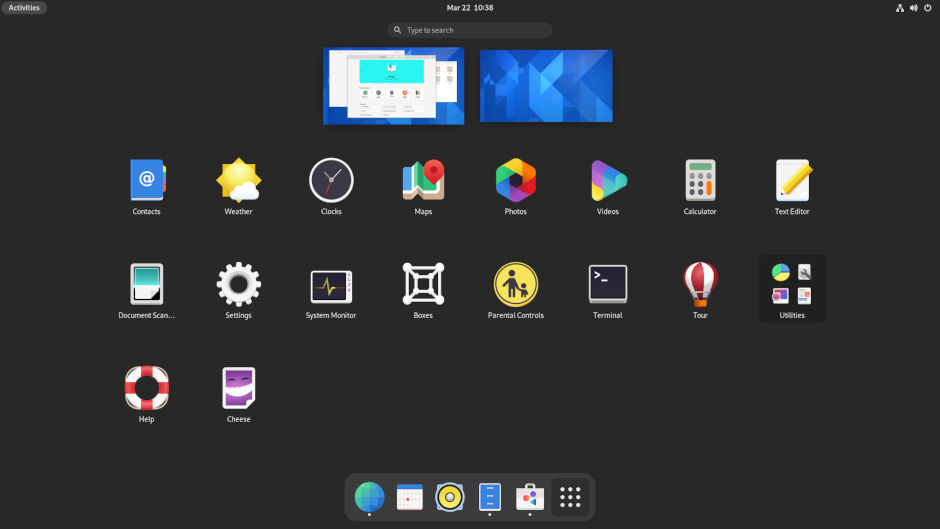 Controlling the shell is possible with Keyboard, Mouse or Touchpad. The GNOME Shell now provides additional touch gestures with three fingers to switch between workspaces and application pages.
GNOME Applications
GNOME provides various applications for desktop users, which integrate very well. The Weather application has seen design improvements and is easier to use. It also scales very nicely for smaller screens.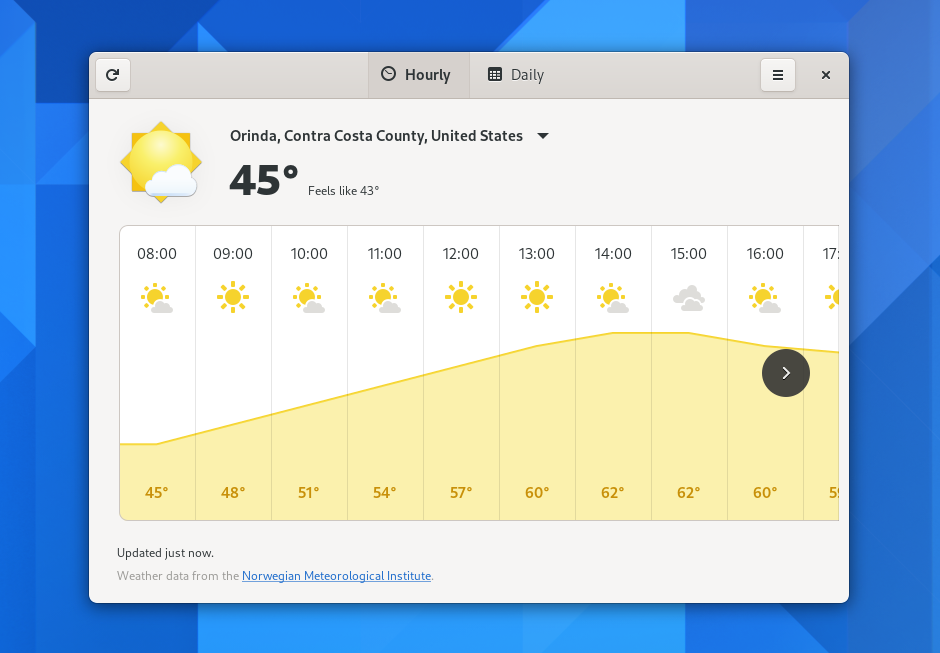 GNOME Web now also provides tabs, which can be used in other GNOME applications, too.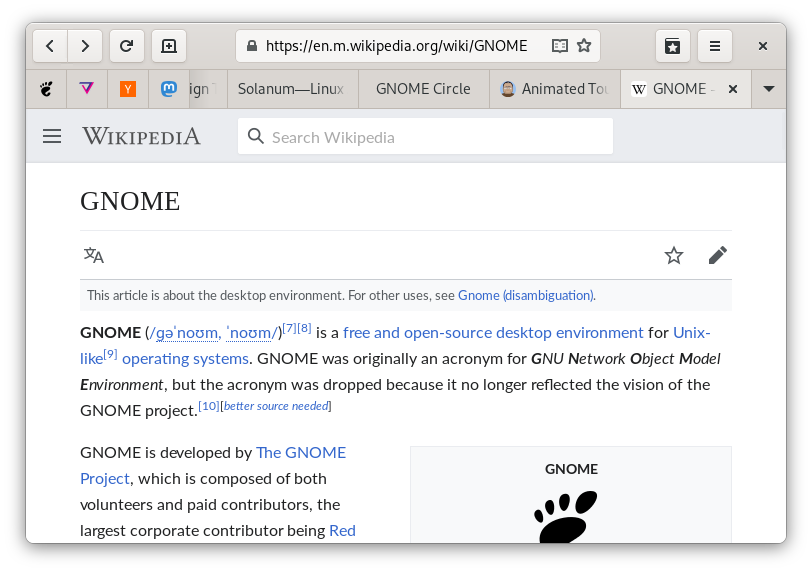 Lastly, I want to mention GNOME Software. This application has seen lots improvements and after some initial testing, I can say it is way more usable than past versions. It looks a bit more polished, but is also snappier and seems more stable. You are also getting more details like the used repository or additional change logs.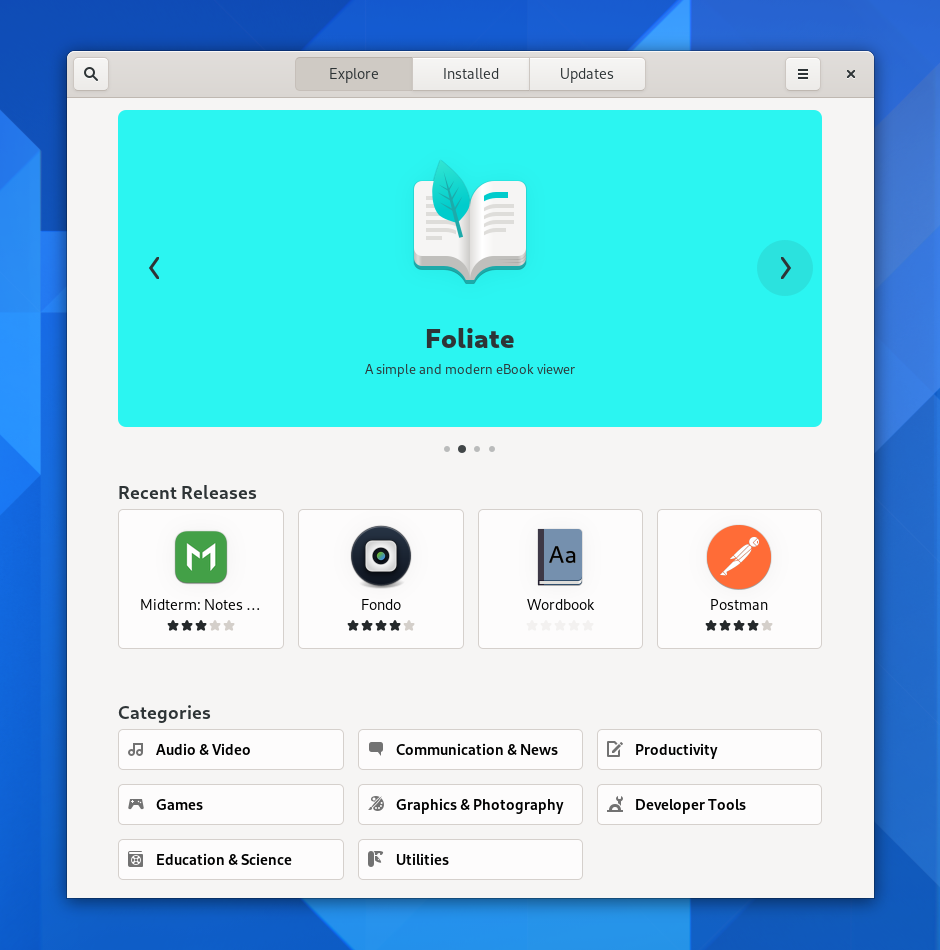 You can get an overview of all GNOME apps in this overview.
GTK4
GTK4 (GNOME toolkit) is the application framework for developers. It was released in December 2020 and GNOME 40 is already using it for many applications. The toolkit provides enhancements for GPU acceleration, an integrated media player and a modern data transfer API. You can read about all features in the release announcement.
Extensions and Themes
Extensions and themes may be an issue for now. The GNOME project is working on an "extension reboot" and due to the changes in Shell and GTK4, many maintainers and developers need to update their extensions. This is might take some time. However, some extensions are already updated and available.
You can read more about the impact of the extension reboot here.
Try it
GNOME 40 is available on Fedora 34 Beta and openSUSE Nightly. The GNOME Foundation also promotes the GNOME OS for testing and development. This distribution was available for some years now, but is getting more attention with GNOME 40.
Videos
The GNOME foundation also produced a Video to showcase the new GNOME 40.
In addition, some YouTubers already had a look at the desktop, too.
Links
The official promotion page for GNOME 40 can be found here. There is also a release page available. If you want to get involved with the GNOME Foundation, please have a look at this page.
The GTK development blog can be found here.
Conclusion
GNOME 40 is a release, that provides a new workflow and improved applications. In my initial testing on Fedora 34 Beta and GNOME OS, I was impressed how well everything works. With the Fedora 34 release in sight, I will ensure to keep you updated.