Spotlight
Spotlight - Alternatives for YouTube, Twitter, Instagram and more
There was a time when the internet was young, full of enthusiastic people that wanted to connect others. We became the product. Our data is used to sell ad-placements. Are there alternatives?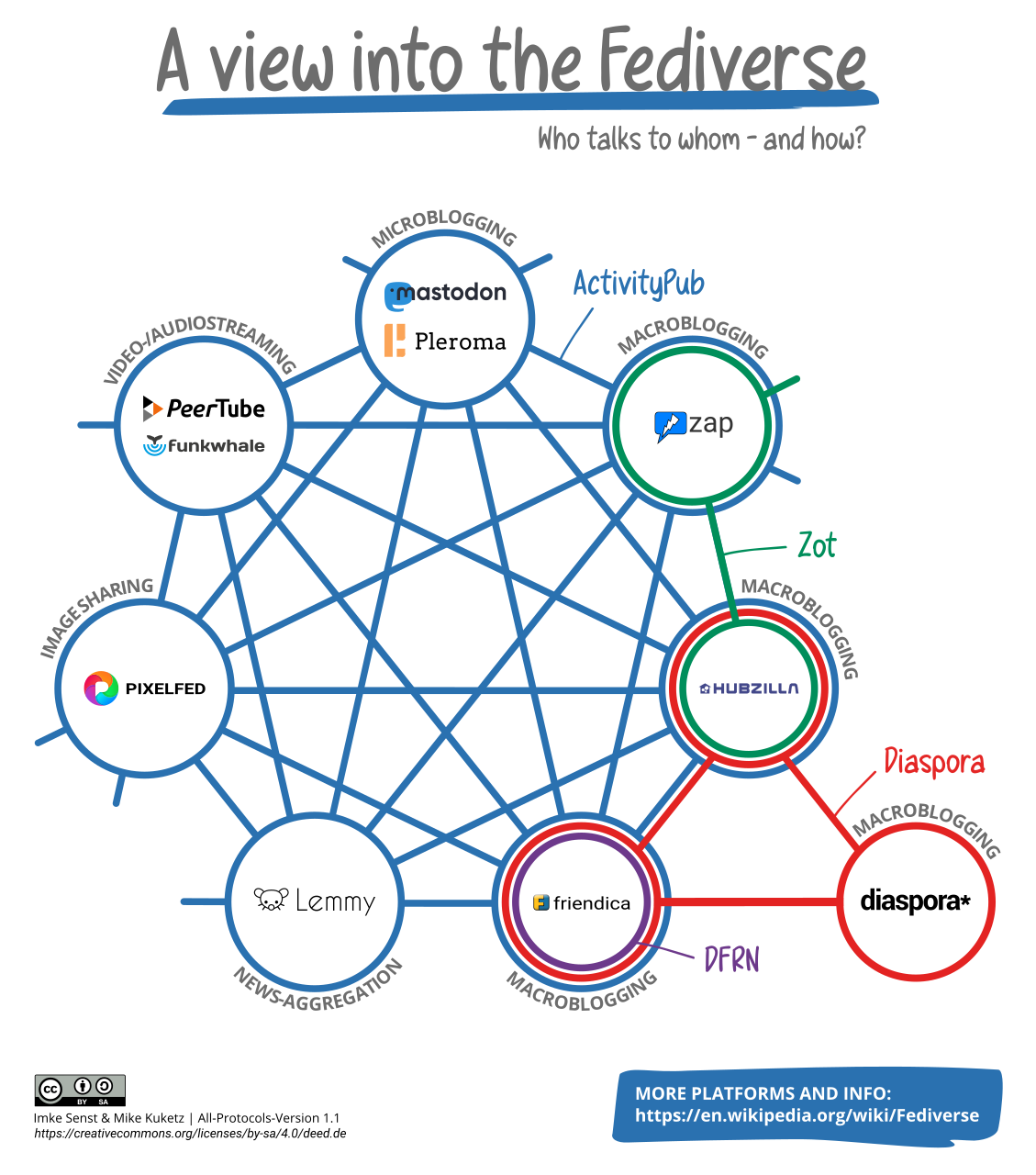 There was a time when the internet was young, full of enthusiastic people that wanted to connect others. Yes, there was always a price-tag on some services, but this tag is no longer visible for everybody. Instead, we became the product. Our data is used to sell ad-placements. Are there alternatives?
Is there a viable option to avoid Google, Twitter, Microsoft Office 365 or Facebook? What are we getting and loosing, if we are using Open Source software only? Let's dig into it.
Why even bother?
Using cloud services from Google, Microsoft, or Dropbox seems very convenient. Most of these services can be used for free, sometimes limited in the functionality. The same can be applied to social networks, video conferencing or messaging.
The issues
But, there are some issues here. First and foremost, if you don't pay for the product, you are the product. Meaning, your documents, messages and (meta)-data is used to sell ad-placements, share personal information with third party services or recycle them for other services (training for AI models, search engines, etc.).
This data gathering also includes your personal letters, papers for your lawyer or doctor and business idea for 2024. This might not affect you directly, but maybe your clients need special data privacy treatment? There is a legal side, for sure.
Lastly, nobody requires these party to keep the service running in its current state. Tomorrow you might face a breaking update, limited functionality, additional costs or terms of agreement. Some vendors are also well known for just "killing" services.
An option
Open Source alternatives provide a way out here. Most Open Source projects are considering privacy and security as the most valuable thing in the world. You might not even need a mail address for registering.
Furthermore, if a service is hosted, this is often done by foundations, non-profit organizations or volunteers. Therefore, there is no "one massive company" controlling all terms. Instead, the knowledge is shared across different providers, instances, and administrators.
In addition, if the service provider/hosting service stops shipping the service or adding proprietary services, there will be somebody starting an alternative. And if this is not sufficient for you, you might self-host it.
Lastly, you can directly influence the product. If you are missing something, you can interact with the developers, contribute code, and even fork the project to start your own spin on it.
Alternatives
Most of the below services can be self-hosted. Anyway, this is not recommended for everybody. Running your own internet facing system requires technical expertise and some time for maintenance.
Therefore, I will focus on services, that are Open Source and available as a hosted solution.
Office 365/Google Docs
Editing documents online is a common practice nowadays. Most of us also want to share these documents with others or edit them collaboratively. Very often I can see Google Docs or Office 365 used for the same.
There are some awesome alternatives available. One of them is Cryptpad.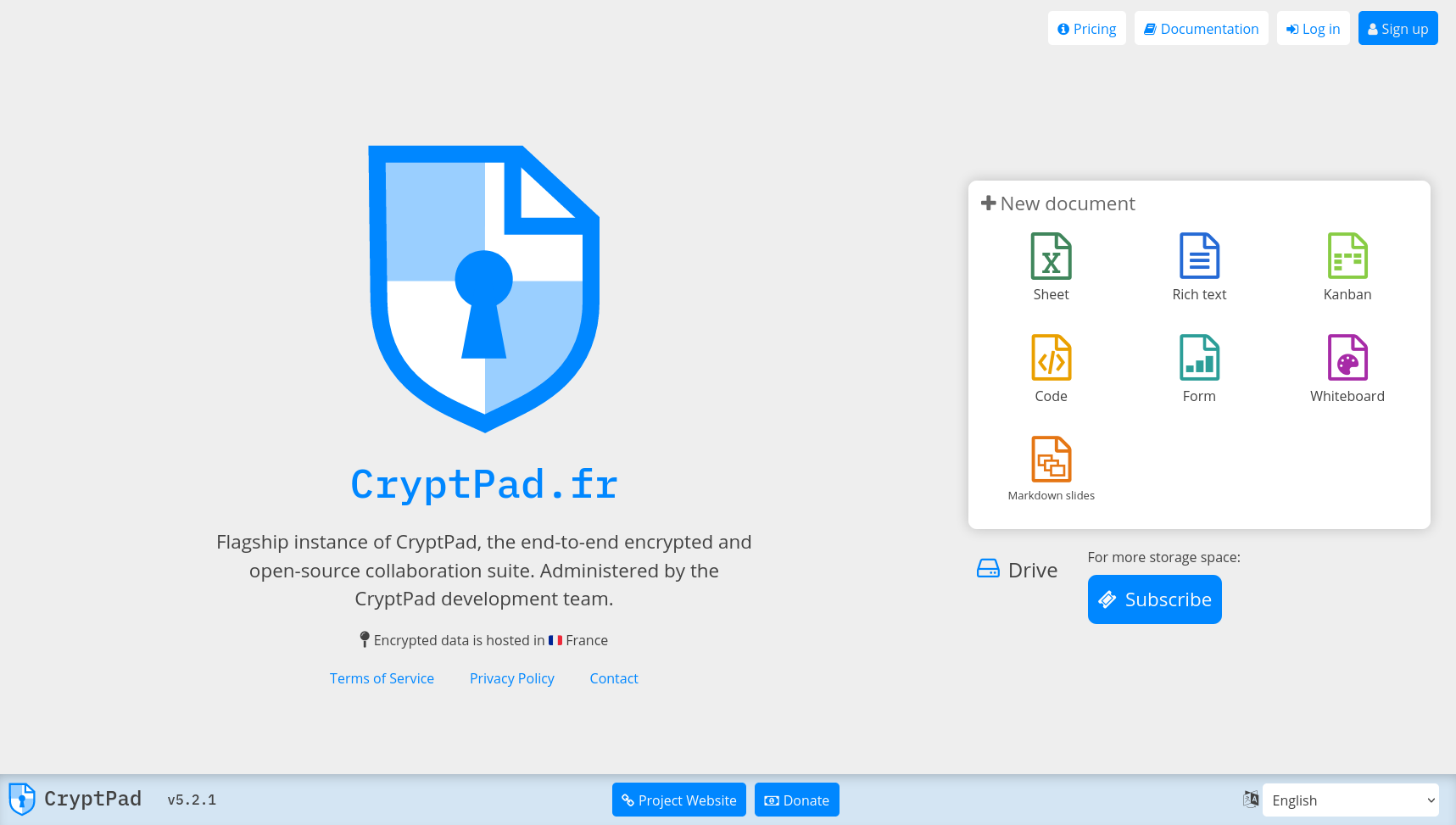 CryptPad provides a full-fledged office suite with all the tools necessary for productive collaboration. Applications include: Rich Text, Spreadsheets, Code/Markdown, Kanban, Slides, Whiteboard and Forms.
Furthermore, it is end-to-end encrypted and enables you to collaborate with others, even without an account. The public instance is available at https://cryptpad.fr.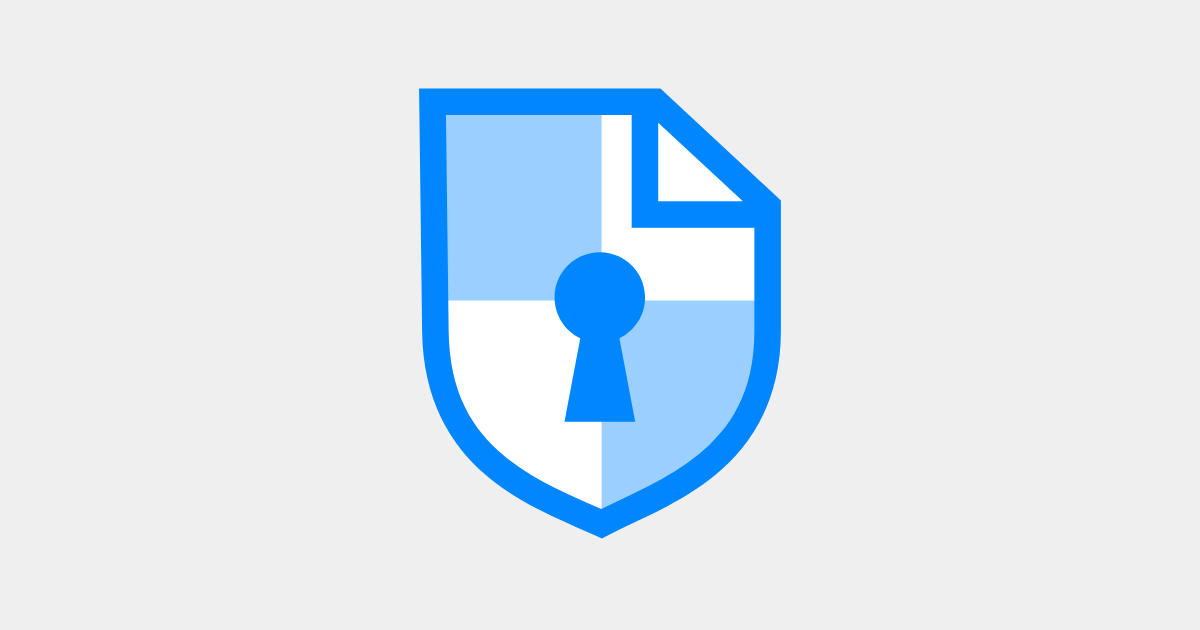 Dropbox
Dropbox and similar services are used to share documents and other files. There is also a cool alternative for this. It is named Nextcloud, and I am a huge fan of the project.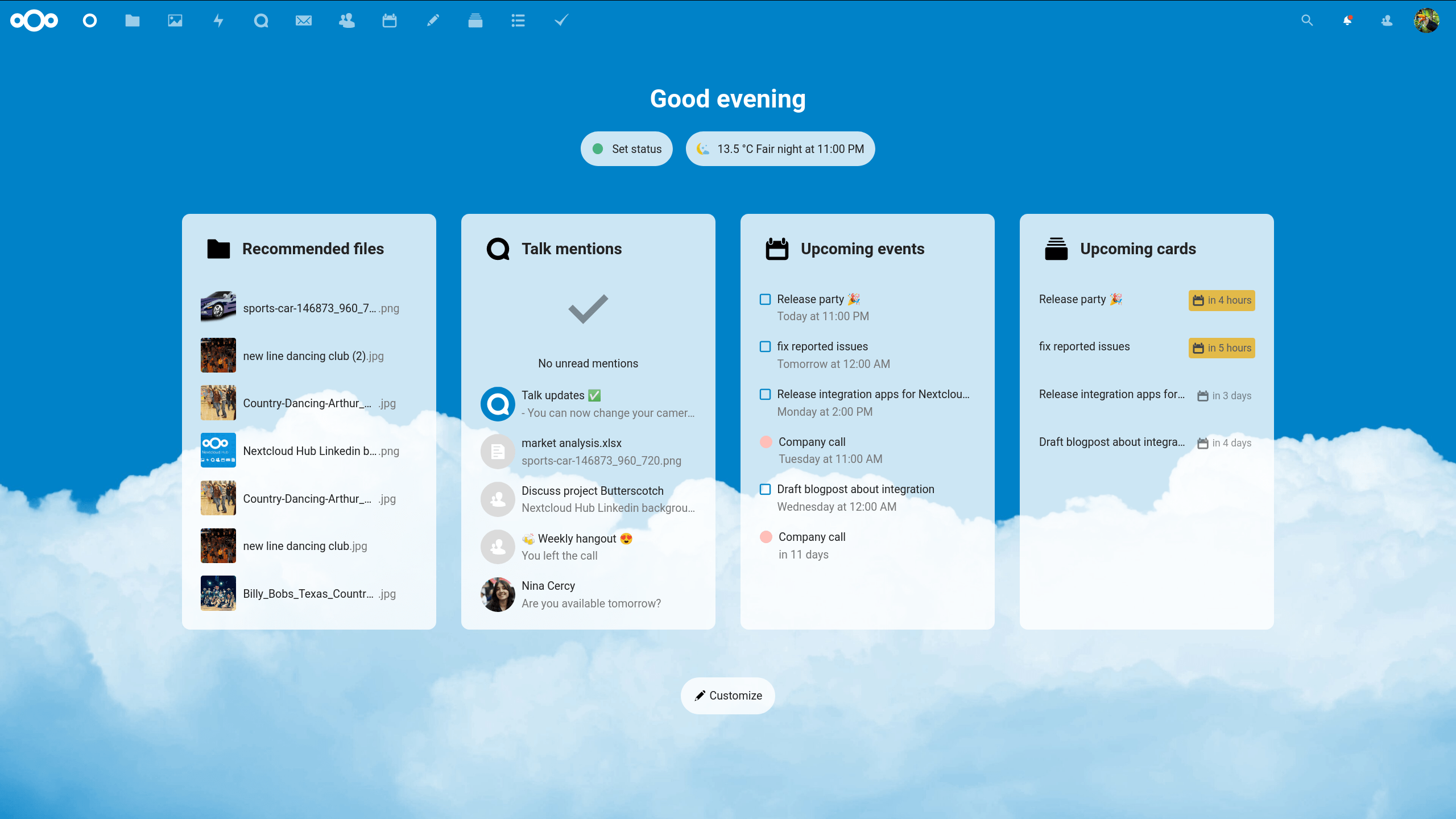 You will get a suite of file synchronization, calendar, mail client and much more with one of the many Nextcloud providers.
Most of them provide a 2 GB contingent for free and additional plans on top. If you only need this functionality at home, you can also have a look at one of the Nextcloud articles on the blog.
GitHub
If you are writing and publishing code, you might know GitHub. The platform can be used for Open Source projects and teamwork in private repositories alike. But what happens, if GitHub introduces severe limits, like Docker recently did? What if you want the same functionality for your company, but don't want to pay for a GitHub Enterprise instance?
Well, Gitea or GitLab might be an option. Both offer a very comparable solution, with issue management, CI/CD integrations and user management.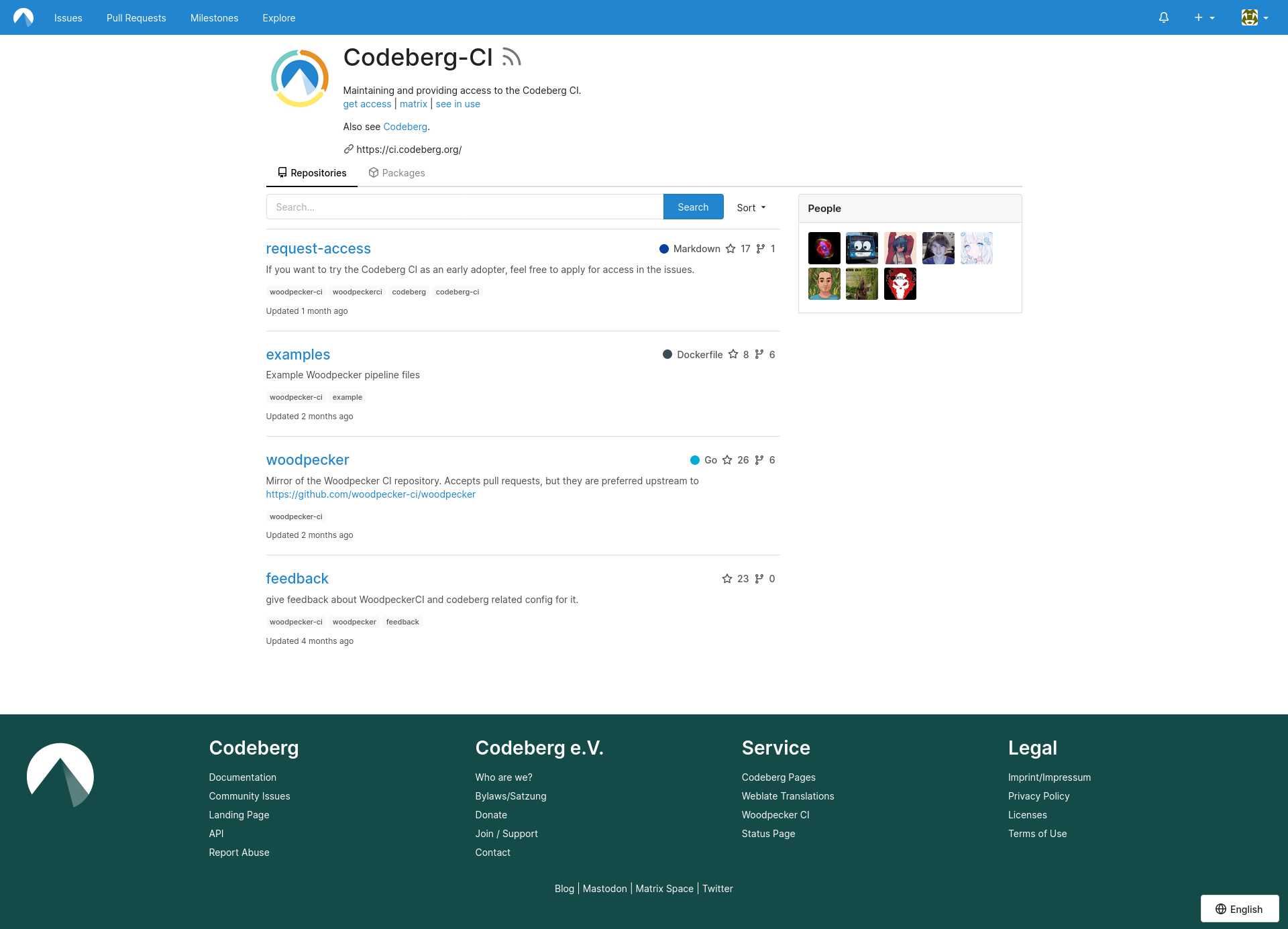 For Gitea, you can have a look at codeberg.org for a hosting provider, GitLab is available for free via gitlab.com.
Twitter
At least since the Twitter acquisition via Elon Musk, Mastodon is popular as never before. This is one example where Open Source development can become a viable alternative for proprietary services.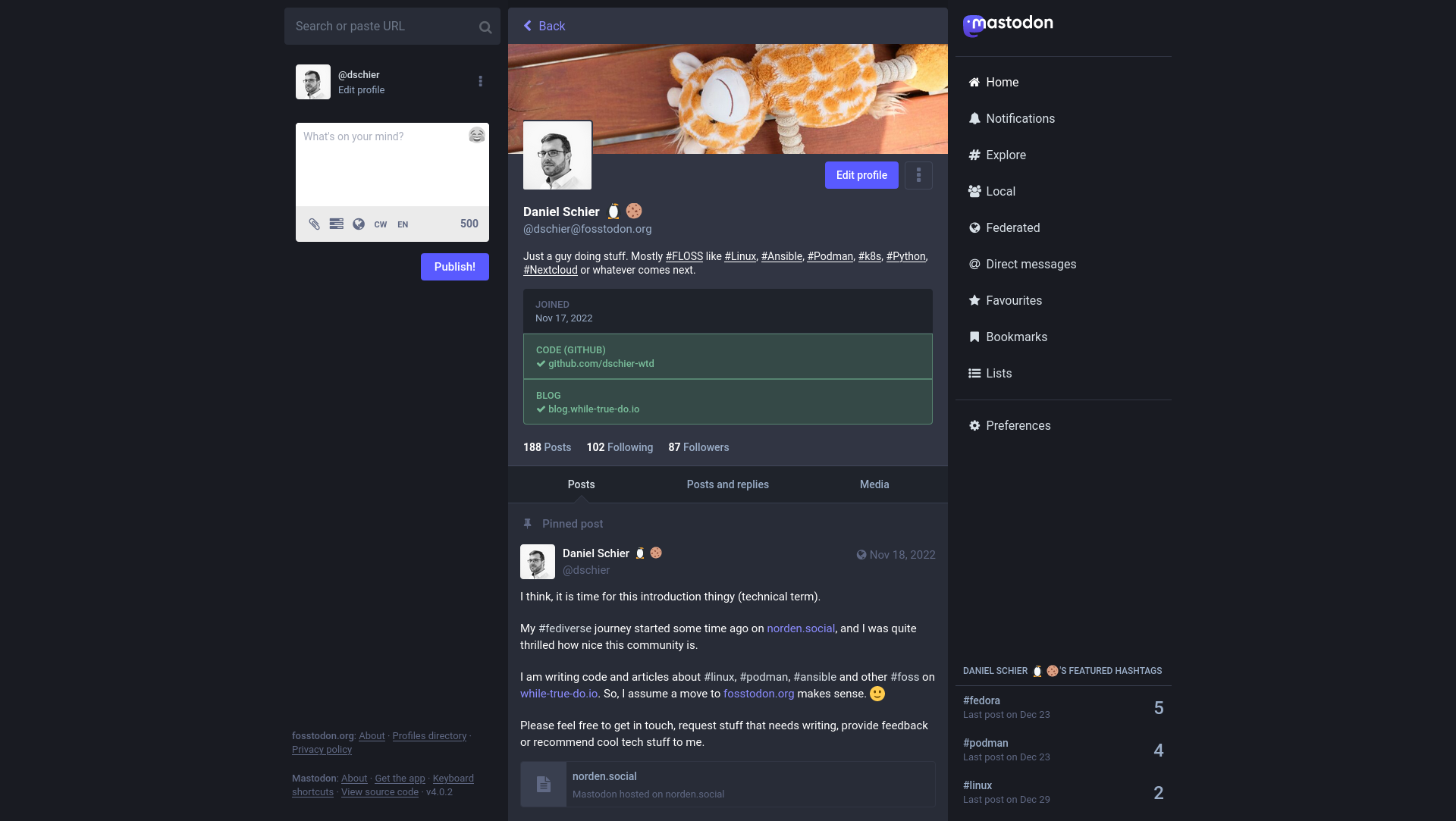 The service is a microblogging platform, similar to Twitter. But, you will not face an algorithm-picked timeline or a single central instance. Instead, you can pick an instance that suite your taste. Anyway, you can interact, follow and communicate with other instances in a very transparent way.
And there is more, Mastodon is only one part of the Fediverse. Some of them work similar to Facebook, others are meant for blogging or picture sharing. You can follow all of them, as long as the instances are federated. All of these services are known as the Fediverse.
I am also on Mastodon and share my blog posts, but also personal things over there.
Instagram
If Twitter is not your thing, but you are more into pictures and image sharing, you might like Pixelfed.
The service is also part of the Fediverse. Meaning, you can interact and follow people from different instances, but also people using Mastodon or one of the many other services. It is organized in different communities, similar to Mastodon.
More
And that's not all, there are Open Source software alternatives for many things you might not even have in mind. Below, you can find a short link list with some.
Docs & Links
You can find even more services on several web pages that help you to choose the right service for you.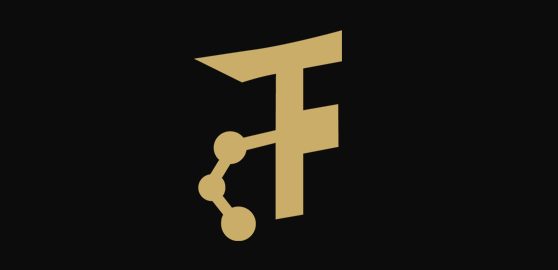 Conclusion
There are hundreds of options, that allow you to follow the people you like, share less data with companies and even edit your documents. Some services like Cryptpad or Jitsi can even be used without creating an account somewhere.
Are you using one of the above services already? Do you miss something important or want to share with the community? I would love to hear about it!