Rocky Linux
Spotlight - Rocky Linux
CentOS shifted it's support and delivery. Nowadays, you can get CentOS Stream with continuous updates, but that's not everybody's cake. With Alma Linux OS, we already had a look at one of the new distributions, that try to fill this gap. In addition, you may have heard of Rocky Linux.
CentOS shifted it's support and delivery. Nowadays, you can get CentOS Stream with continuous updates, but that's not everybody's cake. With Alma Linux OS, we already had a look at one of the new distributions, that try to fill this gap. In addition, you may have heard of Rocky Linux.
Let's see what makes it special and why the community is hyped about it.
Background
After the announcement of CentOS in December, the community was quite angry about it. Due to lacking information and partly just wrong communication, this was to be expected.
Nevertheless, there was also the issue, that CentOS was a downstream fork of Red Hat Enterprise Linux (RHEL) until December 2020. Now it is ahead of RHEL and the community demands something slow and predictable for productive use cases. Rocky Linux popped up and announced to provide a complete community driven and free option.
From the FAQ:
Our goal is to maintain Rocky Linux as a community-oriented distribution by the community, for the community. To do this, we are establishing the necessary organizational structures to ensure that Rocky Linux remains in the hands of the community. We want to make sure that it's not possible for what happened to CentOS to happen to Rocky Linux.
Now we are having another, but community focused, RHEL downstream distribution, which is a good thing, if you ask me.

Let's have a look what you can expect for today.
Release & Support
Unfortunately, the final release of Rocky Linux is not available, yet.

You can download the Rocky Linux 8.4 release candidate and test it, if you wish. I strongly recommend not to use it in production, yet. For the near future, it is expected to have a stable release, which will be supported through the community.
There are no options for enterprise support, but the community is documenting basically everything and has already set up mailing lists and chat option. You can find the current status in the wiki.
Unfortunately, you cannot find a planned lifecycle of the final Rocky Linux release, but I expect it to be close to RHEL. So, maybe something around 5 years. I am not sure, if there are options to have Rocky Linux 8/9 supported for 10 years, like RHEL is.
Features
Even if Rocky Linux is quite new and not finally released, you can already find an ARM64 (aarch64) image. This was something CentOS was often lacking, and I really hope, we will have proper ARM support for free through Rocky Linux.
Otherwise, you will get what you expect: a bug-by-bug, feature-by-feature re-spin of RHEL. But, there is more.
Since Rocky Linux has a very strong focus on the community, it is building an ecosystem around Rocky Linux. You are not only getting the distribution, but teams that work on documentation, setting up community infrastructure, package stuff and want to Open Source all the knowledge and code. You will also find lots of nice guides for several scenarios in the Rocky Linux documentation.
Installation
The installation of Rocky Linux works exactly the same as for CentOS Stream, RHEL or Alma Linux. You can download the minimal, DVD and boot ISO or aarch64 images from the website.
After the initial boot of an ISO, you will get the Anaconda Installer, which will guide you through the installation. Some basic hints here:
Network must be configured to "Connect on boot"
Root account does not need a password (root locked)
Package selection defaults to "Server with GUI"
Otherwise, it is pretty much straight forward. You can see some screenshots of the installation below.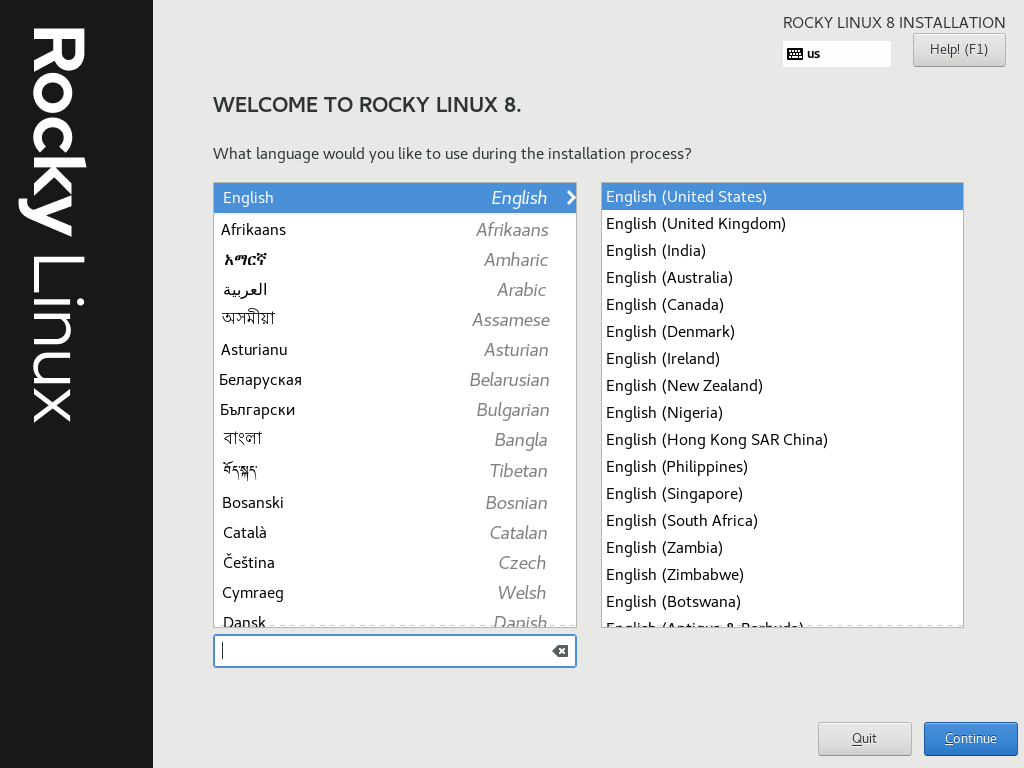 After hitting the "Reboot System" button, the machine will restart, and you will be greeted with the login prompt.
I strongly recommend updating the system before doing anything else.
# Upgrade the system
$ sudo dnf update -y

# Reboot afterwards
$ sudo reboot
For me, there was no pending update for Rocky Linux 8.4-rc1.
First look
I had a quick look around and played with the installation. Here you can see my first small results.
The overall performance seems similar to CentOS or AlmaLinux OS, and I wasn't able to see any weird processes.
The repositories are named similar to CentOS and AlmaLinux OS, which is a good thing for me.
Cockpit Web UI is branded properly and pre-installed (even in minimal install), but disabled. In case you need it, just run $ sudo systemctl enable --now cockpit.socket and login via IP-ADDRESS:9090.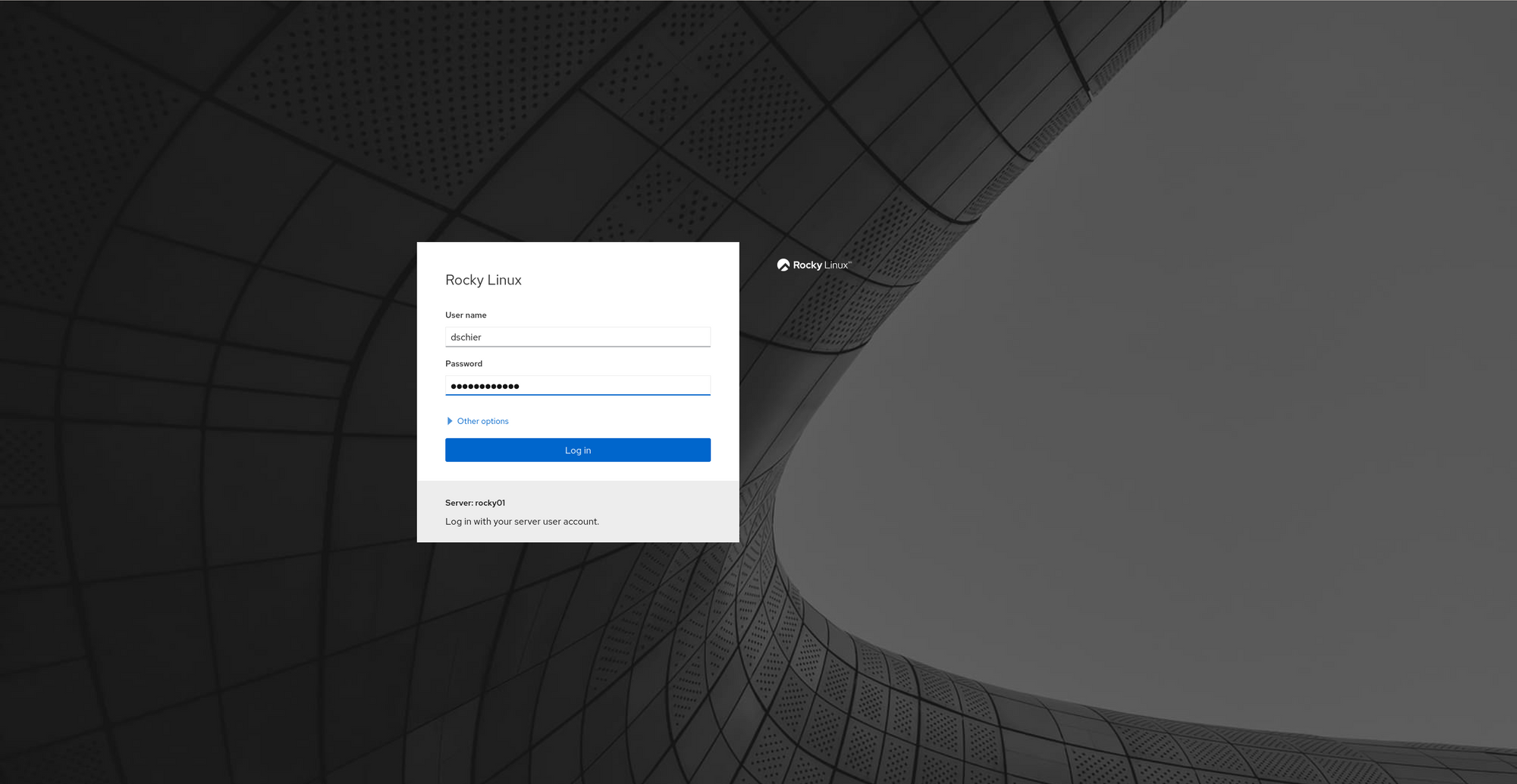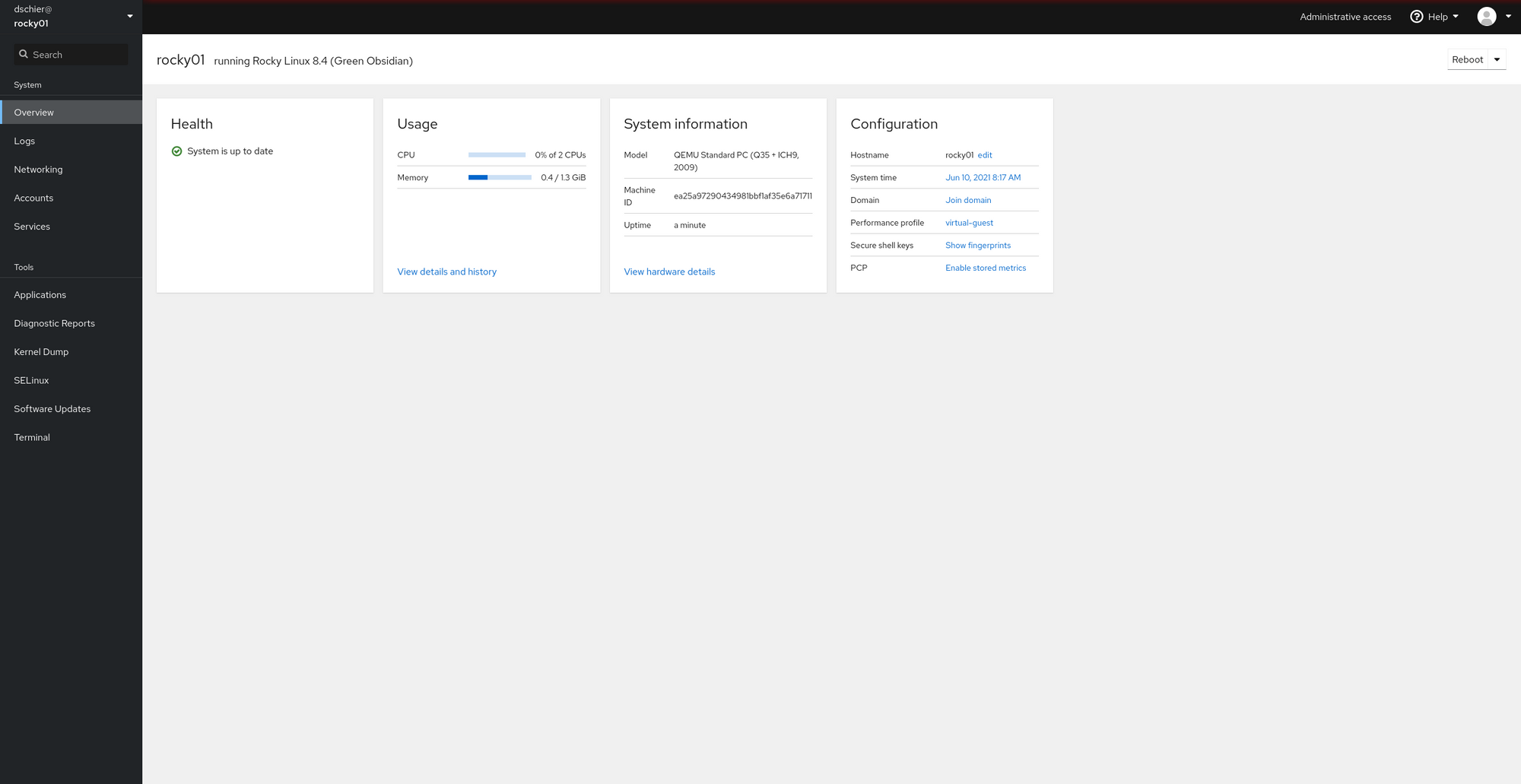 KDUMP enabled and running by default
SELinux enabled by default and no errors visible
Overall, I can say: This is a pretty nice release candidate!
Contribute
Rocky Linux is actively seeking for contributors and support. If you want to get in touch with the development team, support the community or help to build tools and support channels, you should definitively reach out via this web form.
Links & Docs
In case you want to dig deeper, I strongly recommend having a look at the documentation and the Wiki. Both are providing very nice and well-made guidance.
Conclusion
I am pretty surprised how well everything works together and how polished the RC looks. Yes, I am not a Linux Kernel developer and there may be stuff under that hood, that I am not able to see at the first glance. So far, well done.
I am looking forward to seeing how the community is driving Rocky Linux and building the ecosystem. As you may know, I am happy about each and every new Open Source OS in the market, especially if it fits in my very "Fedorian" universe.